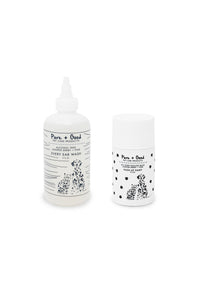 Pure + Good Pet Every Ear Wash & All Over Healing Balm set
EAR WASH
Formulated for all animals, our Every-Ear Ear Wash can be used to comfort a variety of ear conditions and is gentle enough for daily use. Our formula aids in the removal of moisture, wax, and dirt build-up that can cause odor and lead to itching and infections. Instead of alcohol, we use witch hazel which is a natural astringent that helps to wick away moisture. Aloe provides emollients that soothe the skin.
Size: 8 fl oz
BALM
Formulated for all animals, our Push-Up Pawp is a soothing balm for use on paws, noses, elbows and skin that promotes healing and provides protection from the outside elements. Simply push upwards from the bottom of tube and apply gently to desired area.

Size: 2.5 oz
Scent: Juniper Berry + Pine 
Trekking through dense Siberian pine, fresh juniper berries covered in rainy dew, undertones of healing cypress and moss.