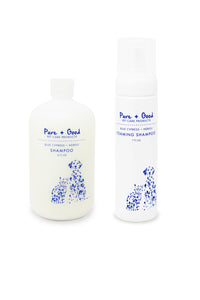 Pure + Good Pet Blue Cypress + Neroli Shampoo & Blue Cypress + Neroli Foaming Shampoo Set
SHAMPOO
Formulated for all animals, our shampoo is gentle and deep cleansing. Combining ingredients beneficial for improving your pet's coat and wellbeing, a single wash will leave your pet refreshed and smelling pure and good.
Size: 16 oz
FOAMING SHAMPOO
Formulated for all animals, our Foaming Shampoo is easy and effective. Pump a generous amount into the palm of your hand and gently massage into your pet's coat. Wipe the coat with a clean towel to remove any excess dirt. Avoid eye contact. No rinsing with water necessary.
Size: 7 oz
Scent: Blue Cypress + Neroli
Calming blue cypress sways while neroli blossoms bloom. Cedarwood and camphor peak through this cooling aroma.